from Butter condiments for those obsessed with TikTok's viral butter board trend on the theme of food book subscription box When Man cave top picksthe following holiday gift roundup for foodies in 2022 offers some ideas on how to make foodies even more fun this holiday season.
Sugar plum gourmet butter seasoning set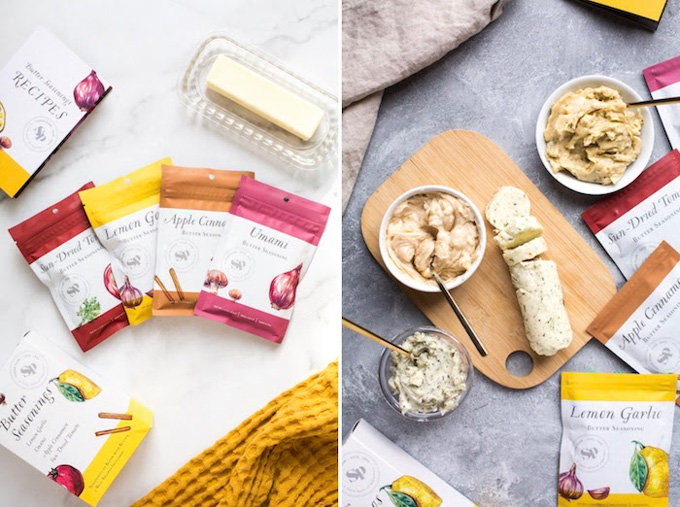 If you love the butter board trend on TikTok, check out the Sugar Plum Gourmet Butter Seasoning Set.
only available in Uncommon Goodsyou'll love whipping up mouth-watering flavored butter with this set of expertly blended herb and spice mixes.
Flavored butter, or "compounded" butter, is an easy way to add mouthwatering flavor to any type of dish, or to a slice of warm bread.
With this expertly blended set, you can create sweet and savory versions to use or gift.
The set includes four seasoning options: Apple Cinnamon, Umami, Lemon Garlic, and Sun Dried Tomato, all handcrafted in Pennsylvania by Neil Edry (co-founder of Sugar Plum Chocolates).
Recipients can mix seasonings into softened unsalted or vegan butter and wait about an hour for flavors to blend and settle before using in spreads, toppings, or favorite recipes.
The kit also includes a card with 4 recipes and wax paper and twine so you can store or gift your well seasoned dishes.
Selling at www.uncommongoods.com for $36.00.
Sweet Reads Top Book Box for Foodies
The Sweet Reads Box monthly subscription service is for book lovers, by book lovers.
The Sweet Reads Box is your chance to relax and enjoy great reading, decadent sweets, and curated items that tie into your novel.
You can choose a monthly subscription, or choose from the line's limited edition boxes or historical boxes (all available).
Here are the top book boxes for foodies.
The Sugar Thief Sweet Reads Book Box
Features of this bookbox sugar thiefby Nancy Mauro, a funny, witty and emotional story about a social media darling with millions of followers who visits her family's bakery in her hometown.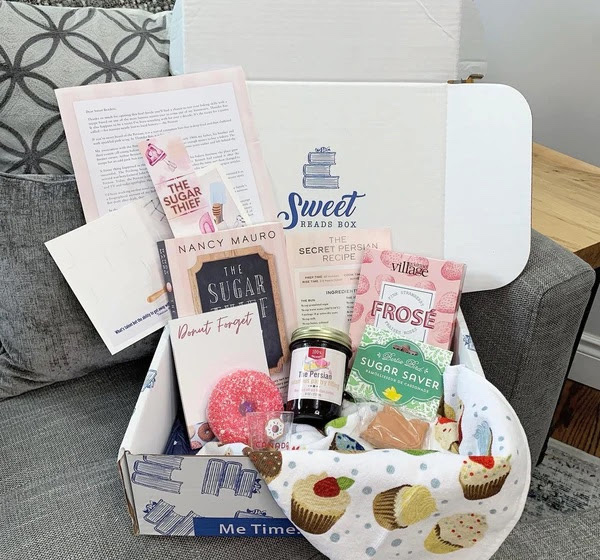 Sabine is a unique character brought home for a family funeral, but that's just the tip of the pastry bag.
Her family has dark secrets and the bakery's Old World pastry recipes are a mystery.
I think you'll enjoy this sweet and salty novel full of chaos, critique and social commentary.
This book box includes custom Persian jams from Walton Wood Farm, Strawberry Frose Mix from Gourmet du Village, a delightful "Donut Forget" notepad, a Donut Bath Bomb from garb2art, Bertie Bird sugar savers from Danica, Cupcakes tea towels and donuts. A shot glass is also included. .
It sells for $70.00 at us.sweetreadsbox.com.
Magic of Lemon Drop Pie Sweet Reads Book Box
Features of this book box magic lemon drop piea powerful story by Rachel Linden about what happened while pushing the protagonist forward to make her current life what she really wants.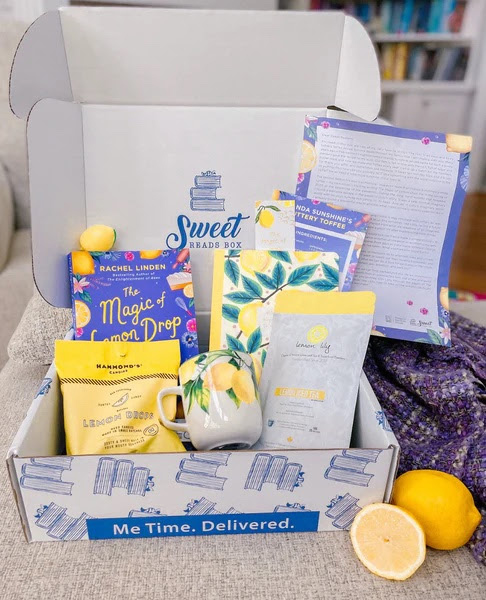 In this book, Rory's life centers on making lemon meringue pies for family dinners until everything changes just before his 33rd birthday.
Enter Quirky Great Aunt and Three Lemon Drops. Each drop allows Rory to have a day in her life.
This book box includes Hammond's Perfectly Sour-Sweet Lemon Drops, Lemon Lily's Organic Classic Lemon Iced Tea, Abbott's Fun Lemon Mug, Lemon Lip Balm to help you bring a pop of lemon wherever you go, Compendium's Contains the beautiful All I Need. The Bright Afternoon Journal, custom recipes designed for Sweet Readers by Penguin Random House, a special custom letter from author Rachel Linden for Sweet Readers, and a lovely custom lemon bookmark to mark your pages.
Available at us.sweetreadsbox.com for $89.99.
Walton Wood Farm Two Farm Friends – Cozy Home Gift Set
This is the sweetest treat! Renew your mind, body and soul with this amazing set of foodie and personal care products.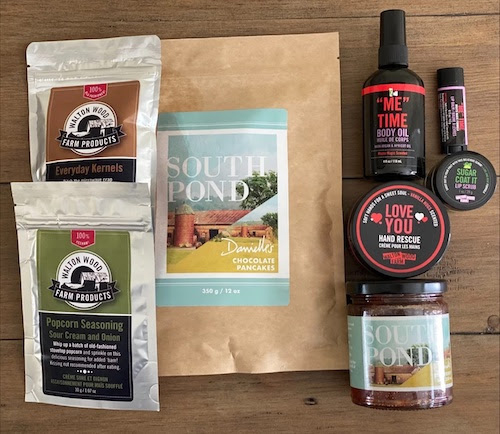 Includes Me Time Lip Balm, Me Time Body Oil – 4 oz, Lip Scrub – 1 oz, Love You Hands Rescue – 4 oz, Everyday Popcorn Kernels Popcorn Seasoning – Sour Cream & Onion (really delicious!), Delicious South Pond Chocolate I'm here. Pancake mix and Minamiike strawberry jam (perfect topping for pancakes)!
Retail price is $59.99 at waltonwoodfarm.com.
As they say, the way to a man's heart is through his stomach. 🙂 Check out the snacks below that guys really love. They're perfect for his man cave, poker night with his buddies, and more.
Black Label: Nut Decanter
Pour these premium nuts into your glass. Introducing the newest sexy glass decanter.
Whether you're looking to snack in style or prove to your friends that your gift tastes good without the help of your significant other, this delicious blend of cashews and almonds is perfect for the classy nut lover.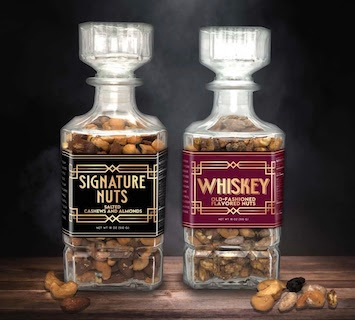 These decanters are filled with our signature mixed nuts (premium salted cashews and almonds) or whiskey-flavored old-fashioned nuts and are the perfect addition to your home bar.
These will become valuable assets in the life of everyone who loves good food as much as alcohol.
Each decanter of nuts sells for $50.00 at dmsnacks.com.
Nuts & Exotic Meatbox
This gift will echo to the core of his caveman. Featuring a curated collection of exotic meats to cater to primitive hunter-gatherer instincts echoing in the early human evolutionary background.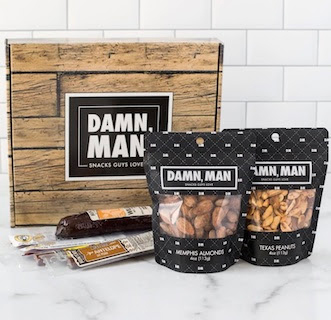 Included is wild boar summer sausage It fuses the traditional sweet and tangy taste of summer sausage with the juicy, rich and nutty taste of well ironed wild boar for a unique taste experience. 2 well-cured beef sticks, 1 Stick of Pork and Antelope Blend It is mild and highlights the flavor of venison, Pig and Crocodile Blend Stick It has a mild, quail-like flavor and is considered a highly delicacy. memphis barbecue almonds (which accentuates the heavy hickory and fruit smoke and sweet and zesty flavors that are characteristic of Memphis-style barbecue), and texas bbq peanuts Robust flavors of mesquite and oak smoke are front and center.
Boxes retail for $49.95 at dmsnacks.com.
Sharing is caring!