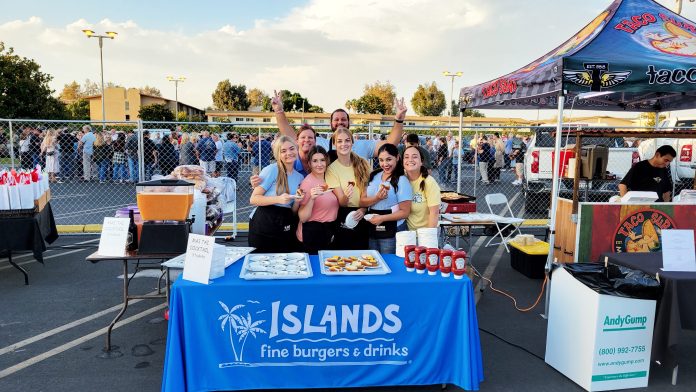 Thousands of Griffin supporters enjoyed a night full of food, raffles, drinks and music last Saturday at the 21st Annual Taste for Ross Al fundraising event behind The Shoppes at Rossmoor.
Making fundraising fun since 2001, this highly anticipated event raises more than $250,000 each year for Los Alamitos Unified School District activities and programs, according to its website.
This year was no exception. An estimated 3,000 tickets, priced at approximately $65 each, were sold by parents and students for the October 8 event, making the fundraiser another huge success for the participating booster clubs and restaurants.
This year, over 30 booster clubs and local restaurants have secured places and recruited hundreds of volunteers to work multiple shifts throughout the four-hour event.
Vendors and volunteers gathered in the parking lot early in the evening, and by 5:45 p.m., Sprout's parking lot had transformed into Griffin's bountiful land with food, alcohol, prize tables, and team merchandise. filled in all directions.
"Welcome to Taste for Los Al," said coordinator Larry Strawther, greeting volunteers ahead of the 6:00 p.m. start time and pacing the lot in a hurry to deliver last-minute instructions.
At this point, Strawther, who has successfully led the event for the past 21 years, is stress-free with all the moving parts coming at once.
Strawther, known throughout the community as one of the pioneers of Taste for Los Al, said:
What's more, what Mr. Strother describes as his "favorite" part of the event is the anticipation and excitement of seeing everyone and everything begin to arrive at these moments.
Strawther's primary role in managing the event dates back to its original launch in 2001. Inspired by passionate parents in the local sports community, Strawther launched a fundraiser alongside Diana Hill, booster leaders Kristal and Paul Cheek. That will benefit the largest number of students, which in turn will allow the largest number of people to participate. "
"The principle of taste was simple: all booster clubs could participate in larger events with more opportunities to make money. It was one event," said the event's website.
Twenty years after we started doing this event when our kids were in high school, it has grown into a much-needed tradition throughout our community, raising over $4 million for LAUSD over the years.
As the gates of Taste for Los Al opened for the 21st time, Griffin supporters eager to taste the best menu items and auction prizes slowly filled the space.
Booster clubs such as hockey, baseball, choir, softball and cheer are among 28 programs that volunteered to donate auction baskets and sell tickets for this year's event.
Los Al High's sports and activity programs are nationally recognized for competitiveness. For groups like Los Alamitos Song and Cheers, fundraising is one of the main reasons the team can travel to Florida each year to win the championship title.
According to Randy Bolton, president of the Booster Club, on sports trips parents are often financially responsible for transportation, hotel and competition costs, so events like Saturday night are "not the best way to fund the event." It's going to be a big deal.
Nonetheless, Booster Club's quiet auction tent was filled with patrons who gambled for the chance to win a variety of prizes, including autographed jerseys, coolers, gift cards, golf clubs and wine baskets.
Meanwhile, drinks flowed and food sizzled at a steady pace as the sun set during a live performance by the Los Al High School Jazz Band. A mixture of sweet and savory aromas from the new and returning restaurants began drawing lines of attendees as the night drew near.
"Getting good restaurants" is key to the event, says Strawther, who plays an integral role in attracting restaurants and business owners to the event.
"It's a great opportunity," says Martin De Santiago, general manager of Hof's Hut Seal Beach, who has worked at Taste for Los Al for more than five years.
"We just lead our customers and they know you are there. It was," said De Santiago of the win-win incentives offered by the event.
Newer restaurants in the area, such as The Meat Company, have prepared signature wagyu beef meatballs and sausages to showcase the butcher-style restaurant market. Meanwhile, restaurants such as Mama's Comfort Food and Cocktails stuck to fan-favorite menu items such as Mac and Cheese and Big Burger Tasters.
Strawther thanked key sponsors Southland Credit, Alamitos Eye Care and Glowacki Chiropractic.