Crispy chicken fingers bring back memories of high school.
At the time, I was eating chicken fingers with fina denne and rice. But who says something has to be normal to enjoy it?
Well, TGI Friday's Chicken Slammer Combos will show you how to enjoy different chicken fingers. Fingers are placed in mini-rolls and dressed up in flavors that appeal to many, Slammer comes in three of his flavors: Buffalo, Italian, and Whiskey Glaze.
For this review, I chose to try two of the three varieties: Buffalo and Italian. I didn't feel like ordering the Whiskey Glaze as I was reducing my red meat consumption on this day as it comes with ribs. If you decide to give it a try, let us know what you think.
Buffalo, $16.95: Chicken fingers tossed with Frank's Red Hot Buffalo Sauce and topped with ranch, crushed blue cheese and diced celery. Also served with boneless buffalo wings, coleslaw and seasoned fries.
Italian $16.95: Chicken fingers tossed in garlic parmesan with marinara and parmesan romano cheese. Also comes with mozzarella sticks, coleslaw and seasoned fries.
Whiskey Glaze, $22.95: This version features chicken fingers in a whiskey glaze with a spicy aioli and sesame dressing. Also comes with 2 bone cut whiskey glazed big ribs, coleslaw and seasoned fries.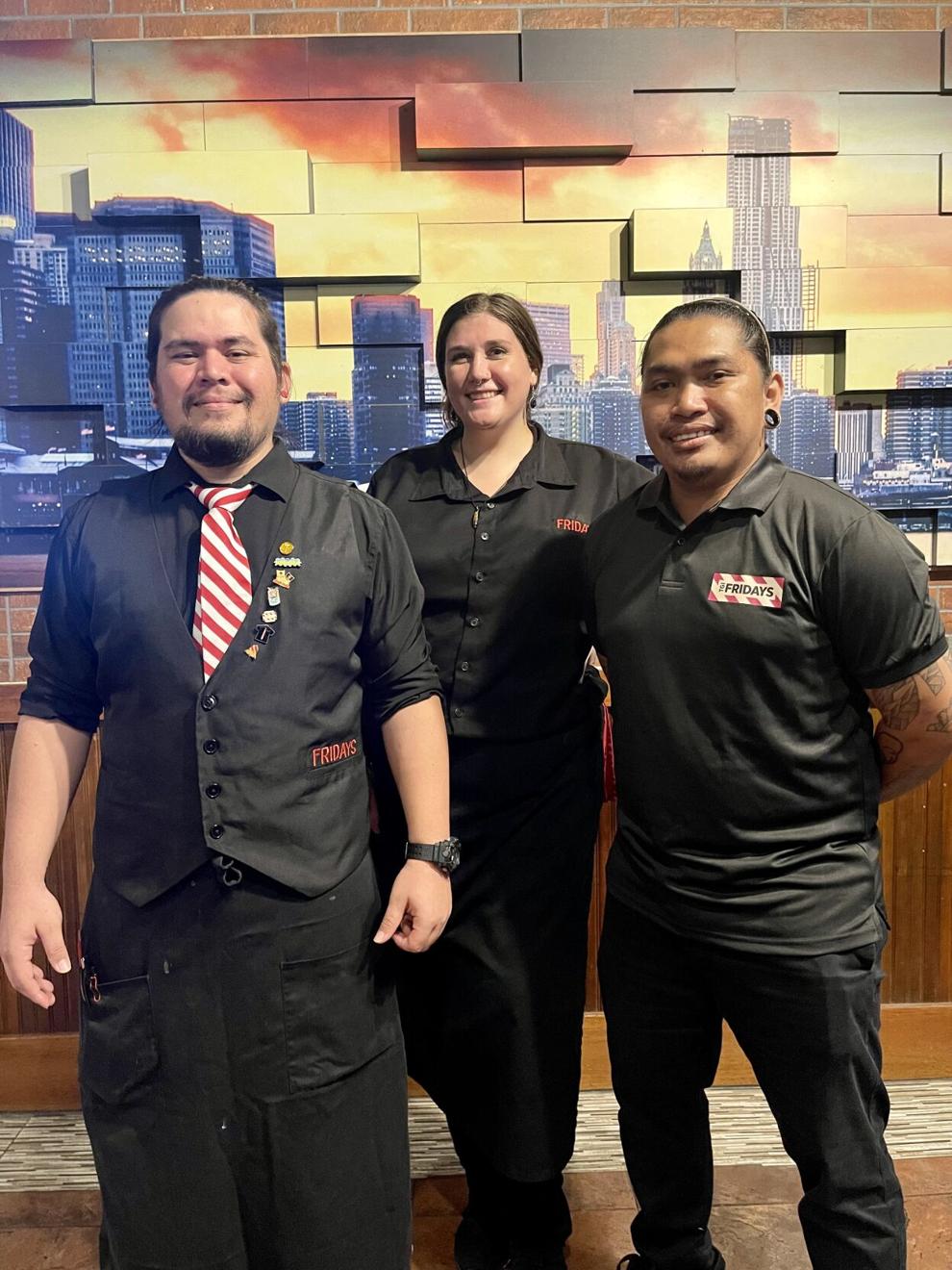 Between Buffalo and Italian, I definitely preferred Italian! Chicken topped with marinara and cheese? Yes! I like the texture, so I enjoyed the crispy chicken buried in soft bread beneath a layer of saucy marinara and gooey cheese.
I found the buffalo sauce too strong for me, but the celery served as a crispy neutralizer.
Portions of these slammer combos are very satisfying considering all the items served together. I've never been a fan of coleslaw, so I wasn't thrilled with this item.
The mozzarella sticks, an Italian option shaped like rectangles instead of logs, were winners for me in and of themselves.
The atmosphere at TGI Fridays remained festive and casual, and the service was friendly, efficient and attentive.
I also ordered two drinks while I was there. The June Bug $9.95 came with lemon liqueur, coconut rum, banana liqueur, lemon, lime and pineapple juice.
The Mango Berry Daiquiri $7.95 is a blend of premium white wine rum, fresh lemon and lime juice, mango puree, and strawberry puree.
Both were easy on the eyes and had a refreshing taste. I slightly preferred the Mango Berry Daiquiri to the June Bug because it was blended and felt more like a dessert.
Chicken Slammer Combos will be available for another 2 months and drinks will always be available.
Overall, I had a great experience at TGI Fridays. We look forward to future visits. If you've tried any of the items reviewed in this column, please let us know what you think. We'd also love your feedback on what to try next. Speak now!
Norman Analista is the founder of the clothing brand Analista & Co. He knows nothing in the kitchen, but has developed a definitive palate limited to only the most daring flavors. Similar to his courageous approach to apparel design. Check out the video versions of his food adventures on Instagram and his TikToks: @designereatsguam and @tastemaker671 or Facebook: Designer.Eats.Guam.